The London Ballet Circle offers informal talks by figures from the world of dance, visits to top ballet schools, and a range of other activities.
All the funds raised are used to provide help for young students in their training, other forms of sponsorship, or support for specific projects.
During the Covid-19 'lockdown', many organisations are relaying performances from their back catalogues and people are making "what to watch" suggestions online. We will draw together some suggested viewing here and update the list on a regular basis.
IN ADDITION,THE DANCING TIMES IS MAKING AVAILABLE ITS ARCHIVE ARTICLES ETC UNTIL 7TH APRIL https://ocean.exacteditions.com/magazines/23370/issues
DETAILS OF THE RAD'S EXERCISES FOR THE OVER 55s ARE HERE: https://www.homecare.co.uk/news/article.cfm/id/1623582/over-55s-kitchen-counter-makeshift-barre-online-ballet. SCROLL DOWN THE PAGE FOR THE SOCIAL MEDIA LINKS. THE FIRST SESSION IS AT 1.00PM ON WEDNESDAY 1ST APRIL
ALSO OF INTEREST, ESPECIALLY TO PEOPLE WHO HEARD DAME DARCEY BUSSELL TALKING ABOUT HER DIVERSE DANCE MIX INITIATIVE IS HER OFFERING ON YOUTUBE: https://www.youtube.com/ddmix
Please copy the viewing links below and paste them into your browser:
Peter and the Wolf presented by The Royal Opera House and danced by The Royal Ballet School: access via Facebook or the ROH's youtube channel (from 27th March) **
https://www.youtube.com/royaloperahouse
Sleeping Beauty from La Scala (Semionova/Andrijashenko) available for 30 days from 27th March:
https://www.raiplay.it/video/2020/03/La-bella-addormentata-2f2b817f-bb7e-4c34-95c7-b1777a4a7d24.html
available from the 30th March to the 5th April - Swan Lake from Paris Opera Ballet
https://www.operadeparis.fr/en/magazine/swan-lake-replay
available until the 31st March – The Sleeping Beauty from Stuttgart Ballet starring Friedmann Vogel and Elisa Badenes via this link:
https://www.stuttgarter-ballett.de/
A Blogger has assembled her own collection of favourites here:
https://tothepointemagazine.wixsite.com/tothepointemagazine/single-post/2020/03/23/My-Top-5-Ballerina-variations-this-week?fbclid=IwAR1FYdcT4EGgKlZELlPzGhTxqU-wgTstCViv7NPxC_tyIdpGatJH6hILwHc
The Royal Danish Ballet relayed a recording of Napoli last week and it is still available here:
https://kglteater.dk/kgl/xtra/forestilling-napoli
Teatro San Carlo relayed a recording of The Nutcracker this week with guest RB Principals Lauren Cuthberston and recent LBC guest Vadim Muntagirov. It is available on youtube.
https://www.youtube.com/watch?v=Aae81oqu4Ac&feature=youtu.be&fbclid=IwAR1_aCX_uzVvLjyELCGJxfgnVHl3OXpeS6W9Qap_mLf4z6XtBNQOl_cBANc
1st April at 2.00pm (UK time) - La Bayadere from Astana Ballet Kazakhstan:
Tengrinews TV – прямые live-трансляции и интересные видео
4th April at 6.00pm (UK time) - Don Quixote from Dutch National Ballet:
https://bit.ly/nob-online
Debra Craine (Dance Critic of The Times) recommends watching the following on youtube: Sylvie Guillem in the full version of Month in the Country (with Massimo Murru) and in the Raymonda Act 3 variation; and Darcey Bussell and Zoltan Solymosi in the Tchaikovsky Pas De Deux. [Please google these!]
Coming soon from the ROH on:
https://www.youtube.com/royaloperahouse

17th April at 7.00pm ** Metamorphosis starring Edward Watson
1st May at 7.00pm ** The Winter's Tale from The Royal Ballet
** The ROH relays are part of their From Our House to Your House initiative and are available to view for 7 days.
IN VIEW OF THE GOVERNMENT'S INSTRUCTIONS ON MANAGING THE CORONAVIRUS [COVID-19] SITUATION, ALL THE UPCOMING EVENTS MENTIONED ON THIS WEBSITE ARE POSTPONED FOR THE TIME-BEING. UPDATES ABOUT REARRANGED DATES ETC. WILL BE PROVIDED WHEN POSSIBLE.
LBC Members have been notified individually by e-mail or letter.


The AGM of THE LONDON BALLET CIRCLE was held on Monday, 9th March 2020 at the Royal Ballet School, Floral Street, Covent Garden. The ANNUAL REPORT and ACCOUNTS have been posted on the Archived Newsletters page (via About Us). Members wishing to access the page should be sure to have first created an account and to have logged in.
This year, the AGM evening took a very varied form, with dance and conversation featuring more prominently than the formal business.

By kind permission of the Director, Christopher Powney, members were afforded the treat of watching third year students Maddison Pritchard and Denilsen Almeida rehearse the Chanson pas de deux by Derek Deane. Created for Alessandra Ferri and David Wall, the piece featured many intricate lifts, which made it all the more absorbing to hear the coaching points from teachers Nicola Tranah and Ricardo Cervera and watch the students refine their technique and interpretation.

Following this, Kevin O'Hare CBE, Director of The Royal Ballet, was "In Conversation" with Jane Pritchard MBE, Curator of Dance at the V&A Museum. The focus was firstly on how Kevin had thought about, discussed, and acquired the experiences which shaped his desire to lead a company and later, in some detail, on how he perceived and discharged the various and ever-developing elements of his role, both within The Royal Ballet and in collaboration with others. It was a privilege to hear Kevin's perspectives on these aspects of managing The Royal Ballet. [A photo by LBC is underneath this brief summary and a full report on the conversation between Kevin and Jane will be posted on the website as soon as possible.]
Three lucky members then won a draw for an annual subscription each (worth £39.50) to The Dancing Times, kindly donated by the Editor, Jonathan Gray.

Finally, members were thrilled to be joined for drinks and titbits by many special guests from the ballet world who had talked to the LBC during the previous financial year or facilitated LBC visits to classes and rehearsals.

The feedback about the occasion has been extremely positive and grateful thanks are due to everyone - our various guests; the RBS teachers, students and other staff; and, not least, our president Dame Monica Mason DBE - for making it possible and giving members such a memorable evening.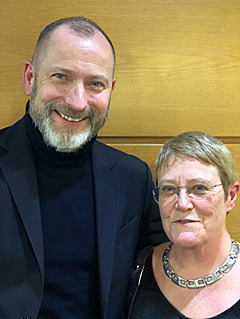 < THE LONDON BALLET CIRCLE IS THRILLED AND HONOURED TO ANNOUNCE THAT DAME DARCEY BUSSELL DBE HAS KINDLY AGREED TO BECOME ONE OF OUR VICE PRESIDENTS >
DAME DARCEY BUSSELL "IN CONVERSATION" 17th February
*** THE FULL REPORT IS NOW AVAILABLE IN THE REPORTS SECTION ***
Following the announcement that Darcey had generously agreed to become an LBC Vice President, she responded to a range of questions both from the writer and dance critic Amanda Jennings, who was the host for the evening, and from the audience.

She spoke about her relatively new venture Diverse Dance Mix https://diversedancemix.com/ and the philosophy behind taking a fun approach to dance into schools. More familiar subjects included Darcey's role as President of The Royal Academy of Dance, her documentaries and her books, the coaching she undertakes with The Royal Ballet, her favourite roles, and her seven years as a judge on Strictly Come Dancing. She also talked about the challenge of engaging young people with classical ballet, the physical aspects of varying teaching techniques, and the impact of social media on dance and the people prominently involved in it.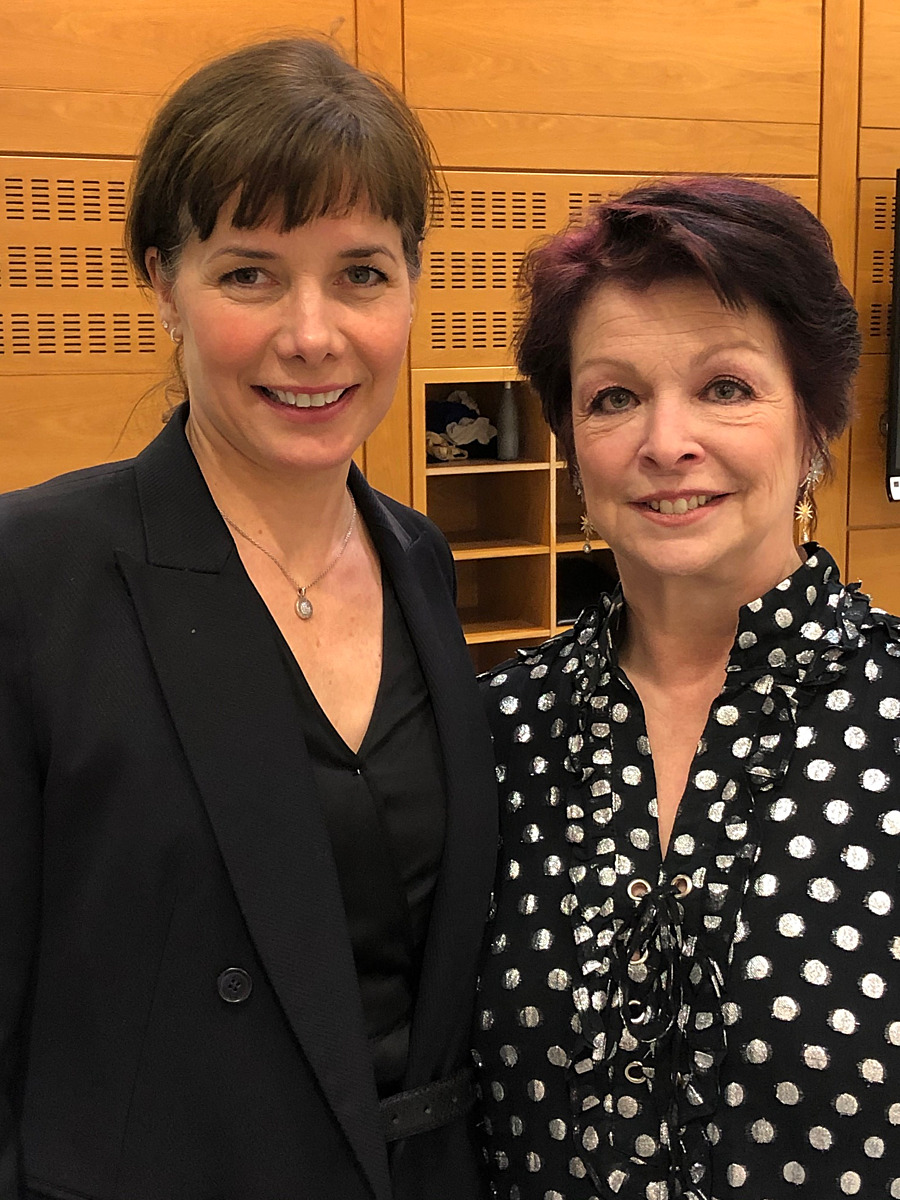 The audience included members who followed Darcey throughout her glorious performing career as well as a number of people who had never seen her dance. All were fascinated by what she had to say and extremely grateful to Darcey for sharing her thoughts across so wide a range of topics and issues. [Photo credit LBC]
SPECIAL "MEMBERS ONLY" OFFERS

LBC Members wishing to purchase tickets for The Fonteyn international dance competition (formerly the Genee) at the Royal Opera House in September 2020 two months ahead of the general public, should please go to ABOUT US and click the News [Members Only] page.
VADIM MUNTAGIROV "IN CONVERSATION" 20th January 2020
THE FULL REPORT HAS NOW BEEN PUBLISHED
Please go to the Reports section
Returning to talk to the LBC 6 years after his last visit and nearly 6 years since he joined The Royal Ballet, Vadim talked to a packed audience about his career at home and abroad. Among other things, he shared insights about his approach to maintaining his technique, preparing for new roles, partnering, and the much valued input he received from his coaches.
Members of Vadim's rapt audience have been saying:
"It was wonderful to be introduced to Vadim off stage."
"A superb evening with so many insights to take away from what Vadim was saying."
"I especially liked the explanations about partnering and how the ballerina can help the man."
"What Vadim had to say was so illuminating and he really gave us a glimpse of him as a person as well as an artist".
The LBC is hugely grateful to Vadim for giving his time and so generously staying on afterwards for autographs, photos and little chats with members of the audience.
The LBC is now on Instagram: https://www.instagram.com/londonballetcircle/
Please take a look!