The London Ballet Circle offers informal talks by figures from the world of dance, visits to company rehearsals and ballet schools, a range of other dance-related activities, and regular newsletters and updates for members.
All the funds raised are used to provide help for young students in their training, other forms of sponsorship for schools, or support for specific dance projects.

On 13th October, the LBC was thrilled to welcome Anna Rose O'Sullivan, hot on the heels of her stunning performance as Lise in the cornfield pas de deux from La Fille Mal Gardée when The Royal Ballet returned to the stage the previous week.

Anna Rose talked about the preparation for that event and the experience itself, which had been emotional for all concerned. She also reflected on her life as a dancer during the pandemic and, especially, on the twelve months preceding that, during which she had made her debuts as Juliet, Aurora and Swanilda.
Anna Rose also shared how she prepared for her roles and the kind of relationship and support she needed, and received, from her partners. Other areas discussed were her involvement in creating roles, the way she felt nurtured by The Royal Ballet in terms of her artistic development, and the excitement of guesting abroad.

It was a delightful evening in the company of a dancer whose career LBC members have been following with great enthusiasm for many years.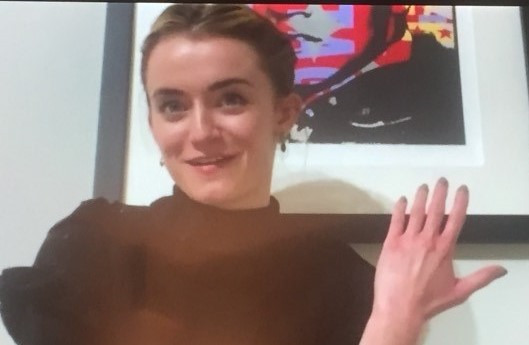 The photo of Anna Rose on Zoom is by member Fran Waterhouse.
THE FULL REPORT IS NOW AVAILABLE (see Reports)
The LBC's next guest on Zoom will be Alina Cojocaru, Lead Principal of English National Ballet and Guest Principal in Hamburg - 6.00pm on Tuesday, 3rd November. [Please note the earlier start time.]
No charge is made for these Zoom 'talks' but those attending are encouraged to make a donation so as to help the LBC maintain its support to student dancers and organisations.
IT IS NOW EASIER THAN EVER TO DONATE TO THE LBC: JUST PRESS THE BUTTON AT THE TOP OF THE PAGE!
The link to Zoom is sent to LBC Members a few days ahead of the event and is on the News: Members Only page. Non members who would like to 'attend' may request the link from [email protected]
On 30th September, it was the turn of Erina Takahashi and James Streeter, Lead Principal and First Soloist of English National Ballet respectively to join the LBC on Zoom after a very busy week during which James had produced ENB's Emerging Dancer evening and Erina was named the winner of the Arts and Culture section in the Asian Women of Achievement Awards. In a wide-ranging conversation spanning their careers and the dynamic of their relationship, James and Erina talked about the ground-breaking repertoire of ENB, the adaptations they themselves have made to embrace the various dance styles now required of them, and their part in developing new choreography.



WORLD BALLET DAY IS BACK https://www.roh.org.uk/news/worldballetday-returns-on-29-october-2020
Most companies are moving into seasons of digital programmes. Those listed below are 'pay-to-watch' unless stated otherwise:
Having had to cancel its live performances only one show in, HET Nationale Ballet is showing its Dancing Diversity at 17.00 UK time on the 25th October: https://bit.ly/yt-kanaal
Birmingham Royal Ballet's film Brief Nostalgia is available to watch until the 21st/22nd October: https://www.brb.org.uk/brief-nostalgia?dm_i=60QQ,3HCS,1FEBIG,E00H,1
To coincide with Armistice Day, New English Ballet Theatre (NEBT) is streaming its full-length 2018 ballet Remembrance, choreographed by Wayne Eagling. The ballet will be hosted from NEBT's YouTube channel from the 15th October to the 15th December, accessible free of charge from https://www.youtube.com/c/newenglishballettheatre
Northern Ballet has filmed three pieces: Locked Down.Locked In. But Living - £12 to view via: https://www.thelbt.org/shows/locked-down-locked-in-but-living/
English National Ballet is due to announce a digital season of specially created works for camera which will be streamed via ENB at Home in November and December.
The Royal Ballet's Gala: The Royal Ballet: Back on Stage first streamed on the 9th October is available to watch for a month [£16] https://www.roh.org.uk. Two more galas are due to follow in November, each with a small live audience, and the company has also announced the return of The Nutcracker for Christmas, in a specially adapted version.

The Akram Khan Company is marking its 20th Anniversary by streaming The Silent Burn from the 4th October: https://www.akramkhancompany.net
Live performances of Wiener Staatsoper will be accessible free of charge on the Wiener Staatsoper website: https://www.wiener-staatsoper.at
Tickets went on sale on 1st September for 3 live streamed performances by Rambert Ballet: https://www.rambert.org.uk/whats-on/draw-from-within/
Sadler's Wells has a varied line-up of free programmes entitled Digital Stage in Focus https://www.sadlerswells.com/whats-on/2020/sadlers-wells-digital-stage/
These continue on 19th October with Zoonation and in November with Candoco.
Dutch National Ballet has an ongoing sequence of programmes: https://www.operaballet.nl/online and also a performance of works by Hans Van Manen: https://operaballet.nl/en/campagne/live

John Neumieir's Ghost Light will be available to view from the 10th October: https://www.arte.tv/de/videos/099933-000-A/ghost-light-ein-ballett-in-corona-zeiten-von-john-neumeier

The upcoming streaming calendar also includes:
To 25th October): Royal Ballet in Dances at a Gathering: https://www.roh.org.uk
NEW YORK CITY BALLET has the following (EDT is 5 hours behind UK time)
Saturday 10 October, at 2pm EDT - a "family-friendly" matinée programme, which includes three ballets by Balanchine: Tarantella, with Megan Fairchild and Joaquin De Luz; the first movement of Western Symphony, led by Abi Stafford and Taylor Stanley; and Scherzo à la Russe, performed by then-apprentices Olivia Boisson and Claire Von Enck, along with dancers who were students at the School of American Ballet at the time of the recording.

Tickets are available from: https://www.nycballet.com/season-and-tickets/fall-digital-season and each program will be available to view for one week.
Other companies' digital seasons are set out on the following websites:
https://sarasotaballet.org
[Sarasota Ballet has three Digital Programmes at a cost of $35.00 per performance; $90 for all three
Programme 1 on the 23rd October focuses on excerpts from Ashton's ballets;
Programme 2 on the 20th November features performances and excerpts from the works of George Balanchine;
Programme 3 on the 18th December will be announced soon.]
https://washingtonballet.org/season/2020-21-season/

The Royal Ballet will be shown in Cinemas as well: 20th October - 3rd November (according to venue): Giselle [Nunez/Muntagirov]; 10th December - 24th December (according to venue) : The Nutcracker [Cuthbertson/Bonelli/Hayward/Campbell cast]
The LBC is now on Instagram: https://www.instagram.com/londonballetcircle/

Please take a look!