The London Ballet Circle offers informal talks by figures from the world of dance, visits to top ballet schools, and range of other activities.
All the funds raised are used to provide help for young students in their training, other forms of sponsorship, or support for specific projects.
LBC LATEST NEWS
THE LONDON BALLET CIRCLE STANLEY HAWKINS BURSARY: WALES INTERNATIONAL BALLET SUMMER SCHOOL July 29-August 3, 2019
Ballet Cymru has hosted students from the UK and elsewhere for its summer school for many years. Since 2012, The London Ballet Circle has awarded The Stanley Hawkins Bursary, allowing a talented young dancer to attend. This year, Joel Calstar-Fisher, English National Ballet School, was the recipient. And a very worthy one too!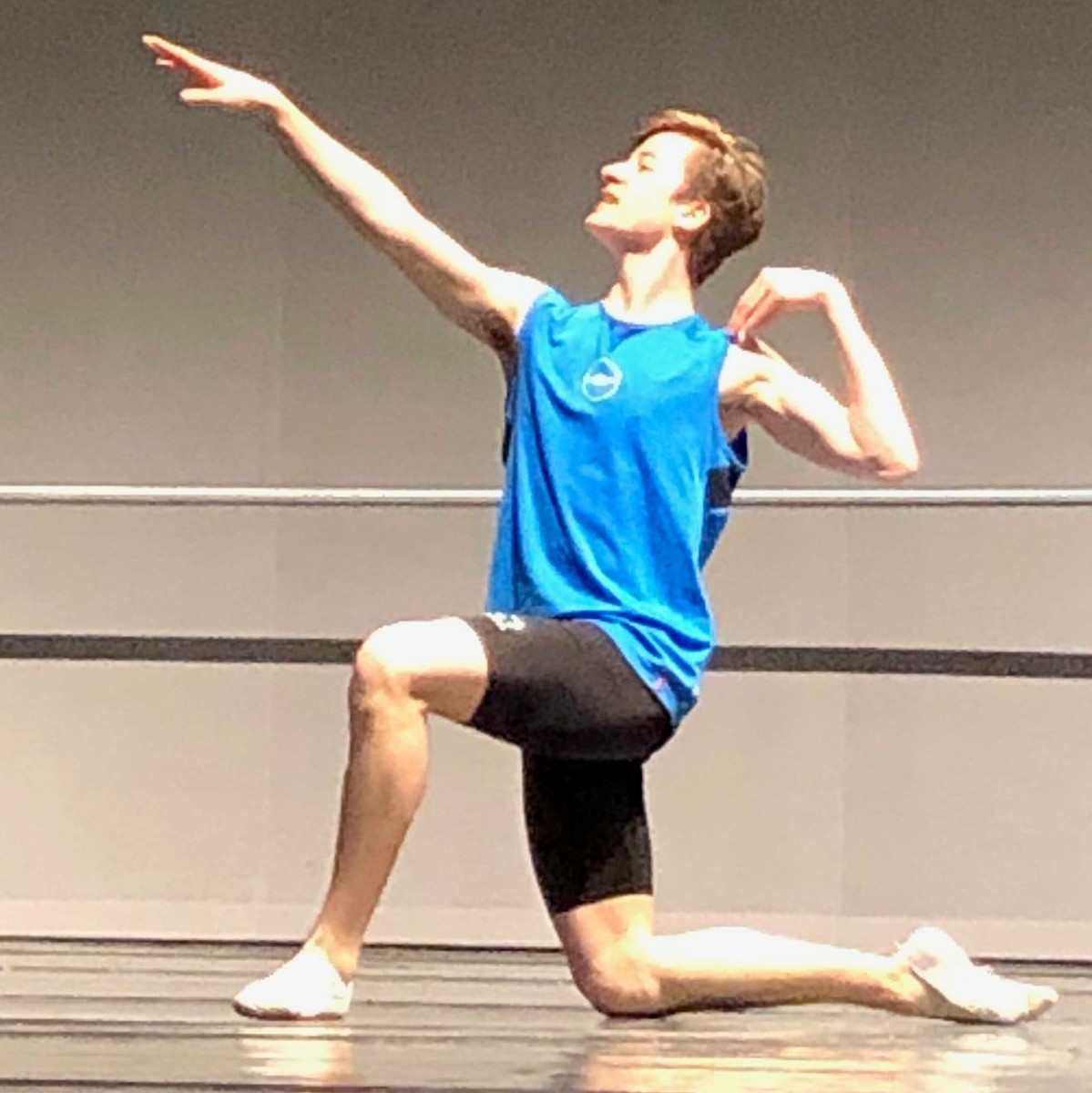 Sander Blommaert, former First Artist with the Royal Ballet, was the guest teacher. In just five days, Joel and his 19 classmates, learned Bluebird from Sleeping Beauty choreographed by Sir Peter Wright. It was inspiring watching the dancers, seeing the determination, dedication and energy they put into the piece. In talking with them, it was obvious they were enjoying the challenge and loved having the opportunity to dance this iconic work.
At the performance for family and friends on Saturday, the audience rewarded the effort with enthusiastic and noisy applause. In addition to the Bluebird, the students learned a new work by Patricia Vallis which will be premiered by Ballet Cymru in November. Set to music by Purcell, it's titled Divided We Stand and is a more contemporary work. There is point work and a lot of partnering involved. Again, the dancers gave it their all and the results were enthusiastically received.
These young dancers are the future of the art we are so passionate about. It's a privilege to be invited to observe the classes and I'm always humbled by the passion these young people display. What I particularly like about this summer school is that the company dancers are fully involved. They teach, coach, encourage and dance alongside the students both during rehearsals and on stage. All the students remarked on this and how helpful it was. The atmosphere is very warm and friendly.
Joel learned a huge amount, was exposed to new teachers, performed for a new audience and had an opportunity to make new friends. It will be with great interest that the members of LBC will watch the career of this talented and delightful young man.
Susan Dalgetty Ezra [Photo credit the Calstar-Fisher family]

And here is Joel's own account of his week:
"Over the past week I have had the pleasure of attending Ballet Cymru's Wales International Summer School. I cannot thank English National Ballet School and the London Ballet Circle enough for giving me this opportunity.
"During the course of the week I was taught by a vast array of prestigious teachers including: Sander Blommaert, Amy Doughty, Darius James and Patricia Vallis; as well as the company dancers. It was such an eye opening experience to take class on stage with the company and dancing with stage lighting, I really got a feel for how to apply everything I've previously learned in the studio to the stage. The company dancers too were all extremely welcoming and were always willing to lend a helping hand whenever needed and to answer any questions that I had. I got to ask relevant questions about graduate year and company auditions which was a huge help and relief as two of the company members had previously attended English National Ballet School and been through the training that I am undergoing.
"We learned the Bluebird pas de deux from The Sleeping Beauty which is an intense pas de deux that requires stamina and technique. Thankfully Sander Blommaert was able to help us to pace ourselves and use the correct techniques required for the lifts. Patricia Vallis' choreography "Divided We Stand" is a very relevant and powerful piece that we had the privilege to learn a excerpt from. I loved observing the companies choreographic process and being a part of it. The performance was very professional on the last day and felt like a performance rather then a demonstration which was intense but good to experience.
"Overall the week was an unforgettable experience and I learned lots from everyone that I can use in the professional world. Thank you to everyone who made it possible for me to attend this wonderful summer school. "
Joel Calstar-Fisher
The London Ballet Circle Dame Ninette Awards for the most Outstanding Students graduating from The Royal Ballet School have been presented to Ginevra Zambon and Liam Boswell.
Huge congratulations to them both and best wishes as they begin their professional careers. Both Ginevra and Liam will join The Royal Ballet as Aud Jebsen Young Dancers for the 2019/20 Season.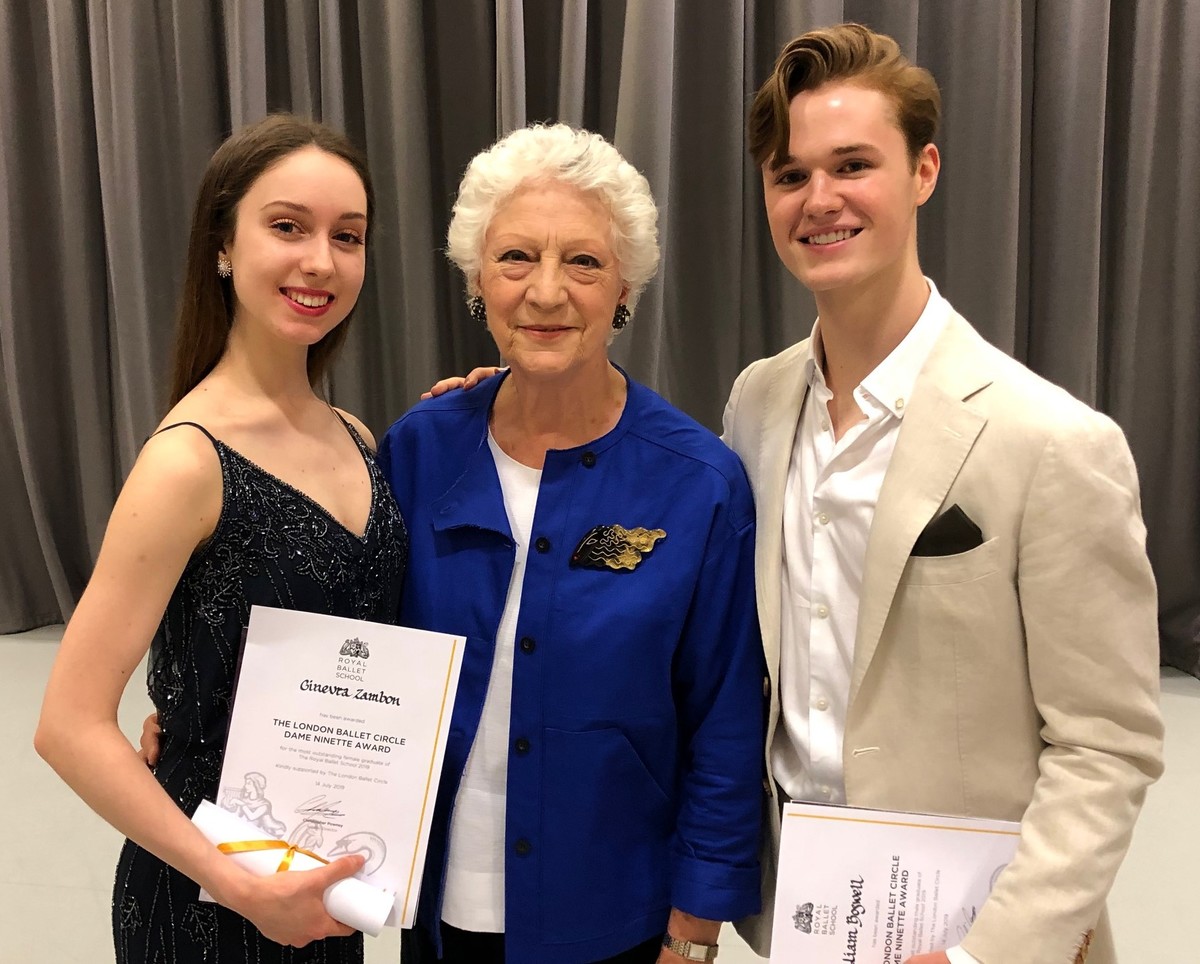 The above photo by the LBC shows Ginevra and Liam with Dame Monica Mason DBE (LBC President).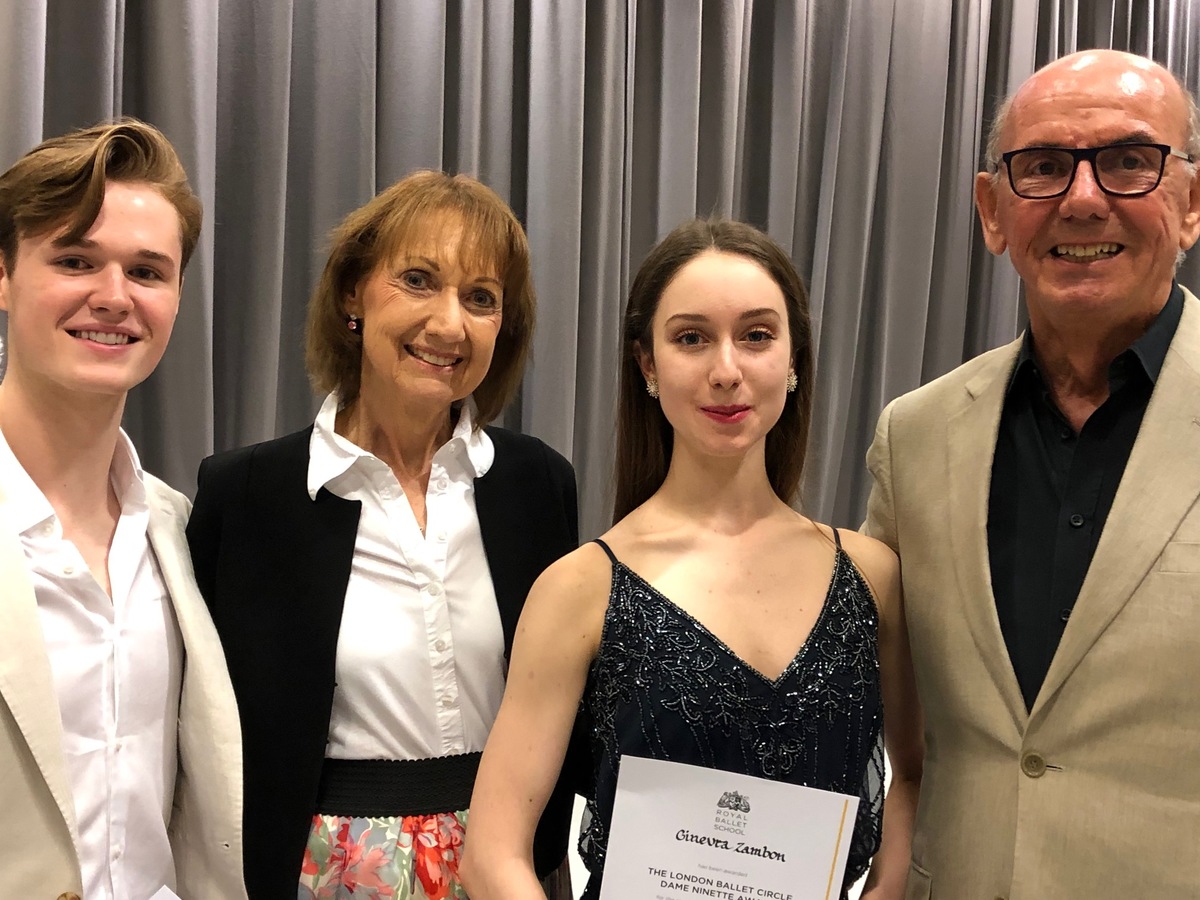 The above photo by the LBC shows Liam and Ginevra with the current LBC Chair, Susan Dalgetty Ezra, and Michael Broderick, former Chair of the LBC.
The Royal Ballet School also presents The David Norman Award to the graduating student who has shown leadership and demonstrated good citizenship during his/her time at the school. The 2019 winner is Matthew Keller, a student who the LBC has previously sponsored to attend the Yorkshire Ballet Summer School.
We send our congratulations to Matthew as he embarks on his career with Norwegian National Ballet 2.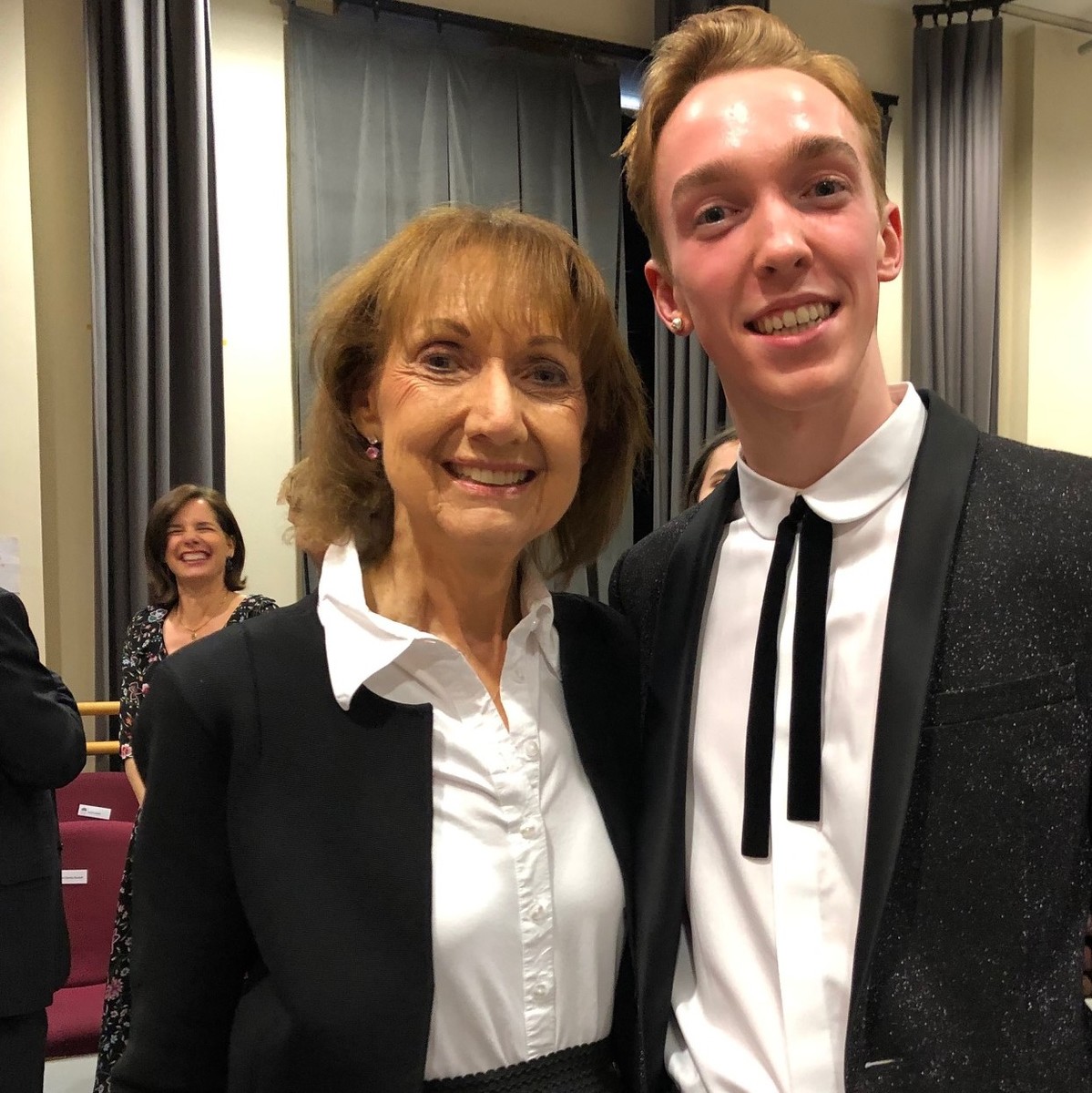 The photo by the LBC is of LBC Chair, Susan Dalgetty Ezra with Matthew.

LAURRETTA SUMMERSCALES and YONAH ACOSTA "IN CONVERSATION"
24th June 2019
The LBC was delighted to be able to welcome back to London former English National Ballet (ENB) Principals, Laurretta and Yonah who are now members of the Bayerisches Staatsballett in Munich.
Host Linda Gainsbury quickly reminded the audience of their very different training, one in the UK, the other in Cuba, the fame they achieved with ENB and their considerable success in competitions. "So, why Munich?", she enquired. The answer was that any dancing career is relatively short and, although they appreciated the new work being introduced by ENB each year, they were attracted by the prospect of widening their repertoire still further, including enticing ballets (such as those by Ashton and Wheeldon) which had originally been made in London and they had seen performed here.
Although the medium of communication was English, there were interesting differences in the ways in which the Bayerisches Staatsballett worked. For example, Principal dancers were assigned a particular coach who worked intensively with them as individuals on all their roles, sometimes for 3 hours at a stretch, the performance schedule was more concentrated, and the way the Company acquired various performing rights meant that ballets tended to be in the active repertoire for 3 to 5 years at a time. Both Laurretta and Yonah liked this approach as it gave them the opportunity to revisit roles within a relatively short time frame.
As she had already done with ENB (as Myrtha and Giselle and in Le Corsaire), Laurretta was making something of a specialism of dancing both leading female roles in one ballet (Olga and Tatiana in Onegin; Phrygia and Aegina in Spartacus; Kitty and Anna in Anna Karenina) and she talked in some detail about how she prepared herself mentally as well as technically for the many challenges this presented. Yonah had found himself dancing Petruchio within 5 days of arriving in Munich in Cranko's Taming of the Shrew and, more generally, was enjoying the stylistic range he was now adapting to "from Colas to Spartacus". He, too, spoke about the emotional preparation which was needed to interpret roles such as Le Jeune Homme "from the inside". While the technical aspects remained important to Laurretta and Yonah, as their artistic careers progressed they were attaching ever greater significance to "really living the character": They both wanted the audience to be able to travel on the journey with them and experience far more than just the steps.
Being able to dance together in Munich meant a lot to Laurretta and Yonah as it brought a further dimension to their interpretations – especially as the fighting couple, Kate and Petruchio in Taming of the Shrew (for which they had garnered rave reviews). [Report continues after photo]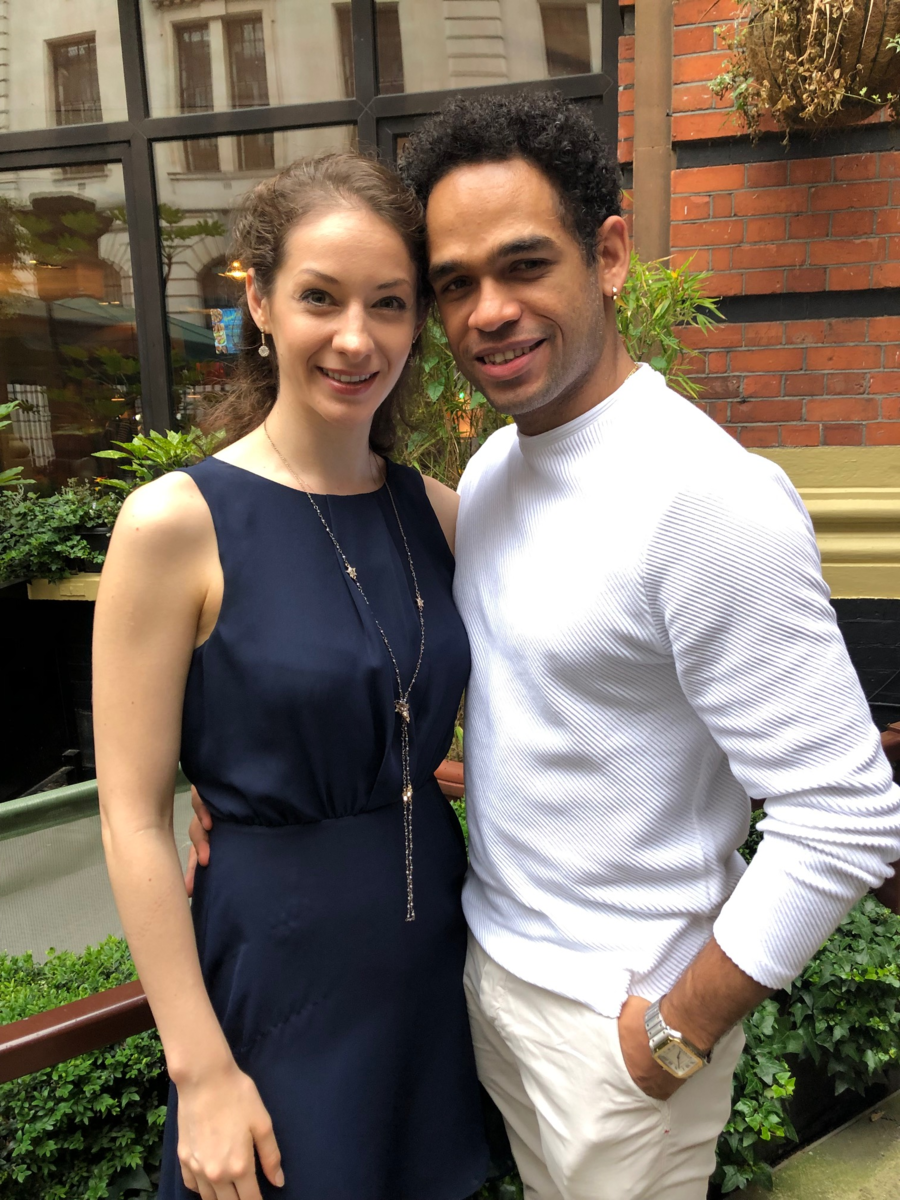 Even so, there were aspects of dancing with ENB which they missed, especially the Christmas/New Year Season at the Coliseum, which seemed to generate a very special atmosphere. Laurretta added that the London audiences were really appreciative and they were frequently asked when they would be coming back.

But they are very much international artists now, guesting in both full length ballets and, together, in Galas. Laurretta had spent a month with AcostaDanza in Havana preparing to perform Carlos Acosta's Carmen there while, having recently danced Colas in Munich, Yonah was then invited to guest in La Fille Mal Gardée in Stuttgart. Yonah had also had leave of absence to make a film in Cuba and, in August, Laurretta was due to begin shooting in the name role for the life story of Olga Spessivtseva, a contemporary of Anna Pavlova.

They were also busy preparing for Dancing for a Dream, a Gala evening on 10th November at the New Victoria Theatre, Woking. This had come about mainly because of the need to raise money to enable Laurretta's nephew, Dexter, who has cerebral palsy and multiple other health issues, to access the medical help he needs in the USA. But it was also partly in response to people enquiring when they were going to appear in the UK again. [Leaflets with information about how to book for the evening with other world ballet stars also on the bill were available for the LBC audience to take away.]
(Much) further into the future, Laurretta would like to be in a position to put something back into the ballet world, perhaps in a leadership role where she would be able to focus on nurturing dancers.
For the moment, the LBC wished both Laurretta and Yonah well with their high profile careers and success for their November Gala where everyone who could get to Woking would be thrilled to see them dance. Members and guests of the LBC lingered to talk with Laurretta and Yonah long after the formal proceedings. There was a buzz of enthusiasm about the evening and everyone was making comments like these:
"A couple that is massively talented as well as very likeable and adventurous!!! I wish them great success and joy in their lives. A thoroughly enjoyable evening."
"It was lovely to see a dancing couple in such harmony and to hear comments from them about their work which really came from the heart".
"What a fantastic, interesting evening. It was so nice to see Laurretta and Yonah again and I'm looking forward to watching them on stage in Woking."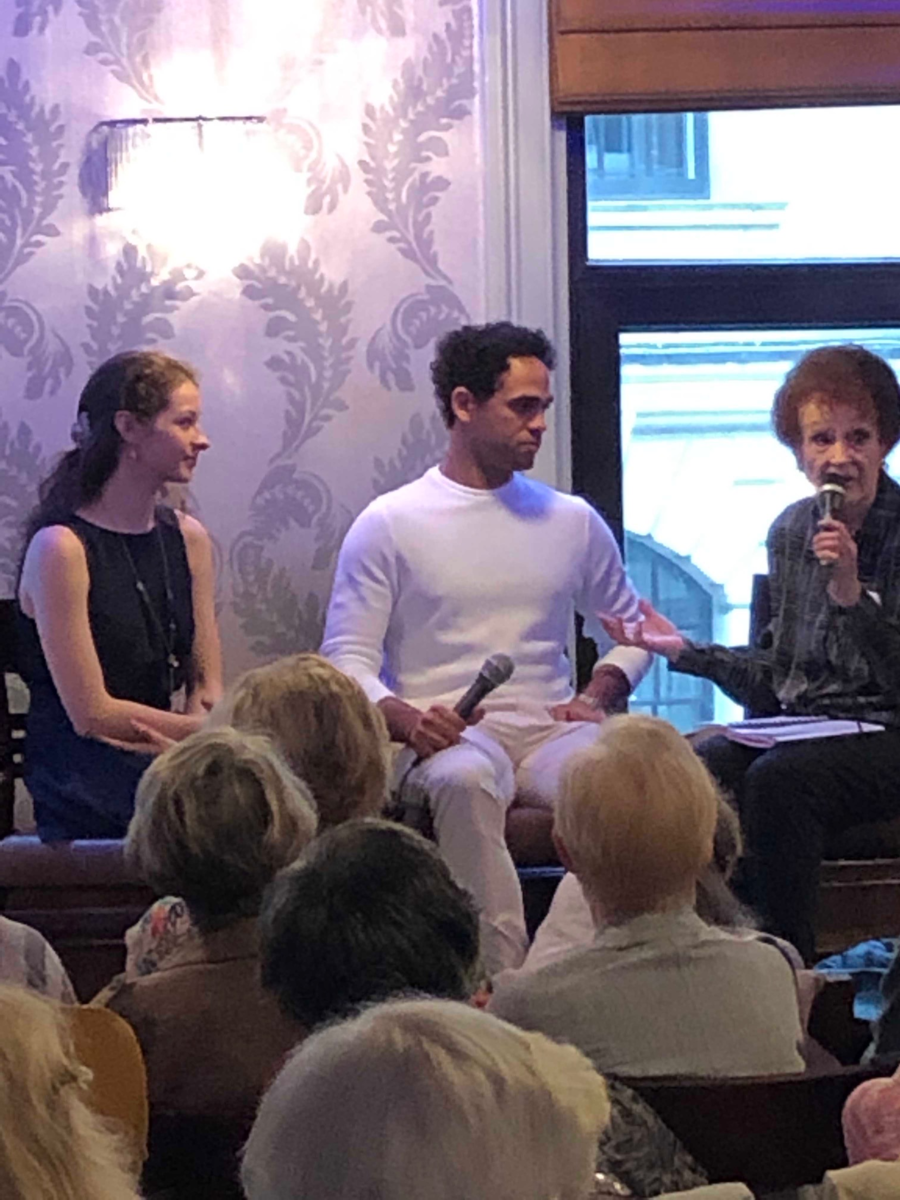 Visit to the English National Ballet School, 27th June 2019
Over 20 members were privileged to have another afternoon at the ENB School just as the preparations for the annual summer performances were being finalised.
Carlos Valcàcel, the Director of Dance, welcomed everyone with the news that the school was celebrating its 30th birthday and they had wanted to create a programme worthy of that special occasion. The teachers concerned then introduced each piece in turn.
Taina Morales explained that the version of Act 2 from Giselle which she had taught the 1st Year Girls' was from Cuba (Alicia Alonso's production) and the challenge had been to mould 18 dancers, from many different countries, into one unified group of Wilis. The fact that they had really liked the idea of "being dead" had been helpful in trying to achieve something which was important not just for the show but also in terms of their futures within a company corps. A long extract, including Myrtha's solo, was then performed with noticeable unity for the LBC audience.
After this, Anne-Laure Arnoux, a guest teacher from Paris, introduced the Pas de Trois from Paquita, emphasising that it was a technically difficult, Russian-style dance which required great precision in dancers' use of their feet and hands. This was delightfully presented in costume by a male student from the 2nd Year and two 3rd Year girls.
Hannah Cameron, the school's Contemporary Dance teacher, spoke about the process involved in the whole of the 1st Year creating their own work. It had started with two groups talking among themselves and trying out different movements before each element proceeded to develop some shape. Melding the parts into a coherent whole was more recent and she hoped that the audience wouldn't see the joins. They didn't – it appeared seamless to those watching.
Following this, Chloe Keneally reprised the modern solo which was specially choreographed for her by Kenneth Tindall for the BBC Young Dancer 2019 competition. Breathless from exertion and with her very proud parents (over here from Brisbane) watching, Chloe then talked about the competition schedule, the secrecy surrounding the intermediate outcomes, and the complexity for her of balancing the additional demands with both the ENBS curriculum and performing with English National Ballet over Christmas and, recently, in Cinderella at The Royal Albert Hall.
Following these studio performances, LBC members were able to ask questions of the Director of Dance, who was clearly looking forward to the imminent move to the new ENB headquarters at City Island…………..where, it is hoped, the LBC will soon be able to visit the school.

An Evening for Margot Fonteyn
[This is a summary report. Please go to the REPORTS page to read a verbatim report on the introduction to the evening given by Alastair Macaulay. A detailed report of the Panel Discussion will also appear on the REPORTS page in due course.]
On Monday 20 May, over a hundred members of the London Ballet Circle and their guests gathered together at the Swiss Church in Endell Street to celebrate the birth of an icon of the ballet world, Dame Margot Fonteyn. They were treated to a wonderful evening of reminiscences from those who danced with her, films of her dancing, performances of works closely associated with her and even a toast to her memory!

The evening started with an introduction from renowned dance critic Alastair Macaulay who explained why Margot Fonteyn was such a unique talent: the curve of the arm as it went into the wrist, the softness of the touch of the foot on the floor, the way that you always seemed to know where she was looking, her sense of tempo and exquisite gesture, drew in her audiences such that they felt an emotional unique bond with her as she danced.
There then followed a panel session with distinguished former members of the Royal Ballet who shared their memories of working with Margot Fonteyn: Alfreda Thorogood Wall, whom Fonteyn had encouraged to dance from the age of 4 with the result that she became a Principal of the Royal Ballet and whose husband, David Wall, Margot Fonteyn described as "her favourite partner"; Dame Merle Park, who remarked on Margot Fonteyn's wonderful cheerfulness and infectious laugh; Donald MacLeary, who recalled the night in New York when he had been dancing the Prince to her Cinderella and the audience had applauded her as she danced so much that he could not hear the music; Sir Peter Wright, who told about the time when Margot Fonteyn was opening in The Sleeping Beauty in New York and Sir Frederick Ashton had deliberately made her anxious as he knew that this would improve her performance – it duly worked; Dame Monica Mason, who illustrated Fonteyn's impact as a dancer by saying that many members of the corps de ballet cried when she collapsed in Giselle; and Wayne Eagling, who talked about her interest in everyone around her – no matter who they were – and the depth of her knowledge of both science and art.

After a short interval, during which Sir Peter led the assembled company in a toast to Margot Fonteyn and everyone enjoyed a slice of celebratory cake, there then followed two dances closely connected to Margot Fonteyn. The first was the Birdcage Dance that she, herself, had choreographed as part of the Royal Academy of Dancer Grade 1 "Fonteyn Syllabus" to music by Johann Strauss II. On the 20 May, the work was exquisitely performed by young RAD student Cindy Van Rooyen, aged 8, and brought back memories of the work as it had originally been developed for the Fonteyn Syllabus. The second was Fonteyn's solo from The Wise Virgins choreographed by Sir Frederick Ashton to music by Bach and arranged by Constant Lambert. In this case, the dancer was Romany Pajdak, a first artist of the Royal Ballet. It was no less exquisite. Many of Romany's gestures reflected the comments made by Alastair Macaulay about the unique Margot Fonteyn style.

In both the first and second halves of the evening, the audience had the benefit of seeing Margot Fonteyn actually performing. Lynne Wake, a documentary film maker and former dancer, presented extracts from a number of films of Fonteyn dancing taken from various stages in her career, including one that had only recently been discovered. Together with the photographs that were also on show, it gave those attending a true insight into this most remarkable of performers.

Finally, and all too quickly, the evening came to an end. Kevin O'Hare gave the closing tribute. As with many people in the room, Kevin never saw Margot Fonteyn perform but he continues to enjoy her legacy with the Royal Ballet. Her photographs still line the corridor and the Royal Ballet still performs many of the ballets that she made famous during her remarkable career.

It was a fitting end to the celebration of the life of the ballet dancer who made such an impression on everyone around her.
The very varied programme was as follows:

[PICTORIAL MEMORIES collated by Jane Pritchard]
[FONTEYN MEMORABILIA collected by David Long]
INTRODUCTORY TALK: Alastair Macaulay
FONTEYN ON FILM 1 compiled and introduced by Lynne Wake
PANEL DISCUSSION chaired by Alastair Macaulay and featuring: Donald MacLeary Dame Monica Mason Dame Merle Park Alfreda Thorogood Wall Sir Peter Wright with an opportunity for questions from the audience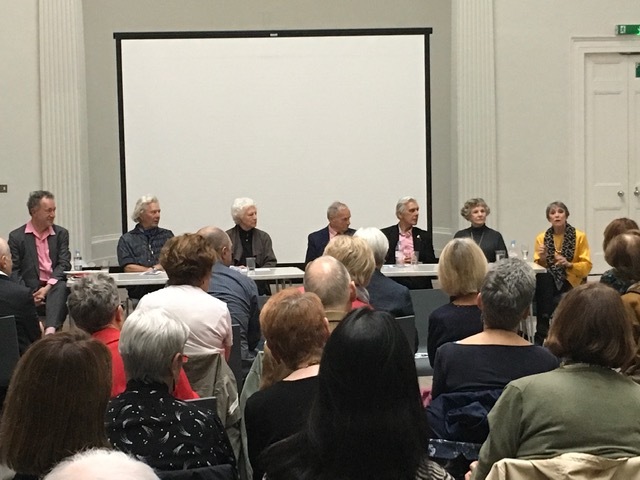 INTERLUDE: CAKE CUTTING by the LBC Patron, Sir Peter Wright, together with a TOAST to honour the memory of Dame Margot
CHOREOGRAPHY BY FONTEYN: The Birdcage Dance (RAD Grade 1 'Fonteyn Syllabus' 1968-1991) with music adapted from Bitte Schön (Polka Française) opus 372 by Johann Strauss II taught by Valerie Hitchen, introduced by Gerard Charles, danced by Cindy Van Rooyen, and accompanied by Reet Smallshaw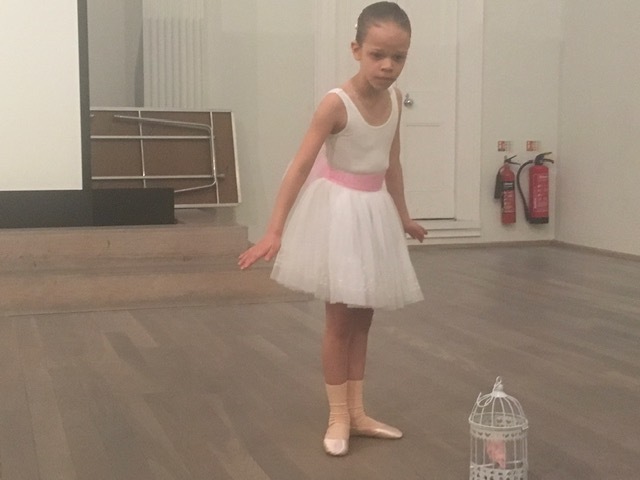 FONTEYN'S SOLO from The Wise Virgins choreographed by Sir Frederick Ashton to music by Johann Sebastian Bach arranged by Constant Lambert danced by Romany Pajdak, accompanied by Michael Pansters
FONTEYN ON FILM 2 compiled and introduced by Lynne Wake
Closing TRIBUTE: Kevin O'Hare, Director of The Royal Ballet