The London Ballet Circle offers informal talks by figures from the world of dance, visits to company rehearsals and ballet schools, a range of other dance-related activities, and regular newsletters and updates for members.
All the funds raised are used to provide help for young students in their training, other forms of sponsorship for schools, or support for specific dance projects.
*** STOP PRESS***
*** THE FULL REPORT ON THE 'IN CONVERSATION' WITH CASSA PANCHO MBE IS NOW AVAILABLE IN THE REPORTS SECTION ***
We have now made it easier for one off donations to be made to the LBC. Just press the Donate button at the top of the page.
CONGRATULATIONS TO HANNA PARK AND DAICHI IKARASHI OF THE ROYAL BALLET SCHOOL WHO HAVE JUST BEEN ANNOUNCED AS THIS YEAR'S WINNERS OF THE LBC'S DAME NINETTE DE VALOIS AWARDS FOR THE MOST OUTSTANDING GRADUATES. Both can be seen dancing in the World Ballet Schools Day streaming which is available to watch until the 7th August: https://vimeo.com/435746806


During the Covid-19 'lockdown', many organisations are relaying performances from their back catalogues and people are making "what to watch" suggestions online. We will draw together some suggested viewing here and update the list on a regular basis.
Birmingham's Royal Ballet's celebrated production of Cinderella will be broadcast in full on Birmingham Royal Ballet's website and Facebook page to mark the end of its online Home from Home series. Its digital premiere will take place at 7pm on Tuesday 25 August and be available to watch for seven days thereafter via brb.org.uk/watch-cinderella
HERE IS AN AMUSING SEQUENCE FROM SCOTTISH BALLET ENTITLED INDOORS: https://www.youtube.com/watch?v=6dqlwFJ4mcc&list=RDCMUClRbXAibuRQXlJJqiIiEzcQ&start_radio=1&t=0
THE ROYAL OPERA HOUSE IS STREAMED THE SLEEPING BEAUTY, STARRING FUMI KANEKO AND FEDERICO BONELLI ON FRIDAY 24TH JULY AT 7.00PM and it is avilable to watch (via the ROH website, youtube or facebook) until the 7th August when ALICE IN WONDERLAND will be shown.
The 3 short dance extracts which formed part of Concerts streamed on Saturdays in June from The Royal Opera House were included in a BBC4 programme at 7.00pm on Friday, 10th July. The dancers are Francesca Hayward, Cesar Corrales, Vadim Muntagirov, Matthew Ball, Mayara Nagri, Fumi Kaneko and Reece Clarke. The programme is now available on 'catch up' and iPlayer and is also featured on the ROH website.
American Ballet Theatre (ABT) principal dancer Misty Copeland and New York City Ballet (NYCB) principal dancers Sara Mearns and Tiler Peck each work closely on performance excerpts with another acclaimed dance artist in this virtual five-part Studio 5 series curated and hosted by dance critic and historian Alastair Macaulay. Participating guests include Nina Ananiashvili (former ABT/Bolshoi principal), Merrill Ashley (former NYCB principal), Alessandra Ferri (former ABT/RB principal), Stephanie Saland (former NYCB principal), and Pam Tanowitz.
All virtual Studio 5 events will be streamed for one week on City Center's YouTube channel.
Studio 5 | Great American Ballerinas is part of City Center's Live @ Home virtual programming and includes the following events.
Tiler Peck with Stephanie Saland On view from Wed Sep 16 at 5pm (10pm BST/UK Time)
Sara Mearns with Pam Tanowitz On view from Wed Sep 23 at 5pm (10pm BST/UK Time)
Misty Copeland with Alessandra FerriOn view from Wed Sep 30 at 5pm (10pm BST/UK Time)
All programs are on view for seven days following the first airing.
The Royal Ballet's Lauren Cuthbertson and former RB Principal Inaki Urlezaga feature in this recording of MacMillan's Romeo and Juliet from Teatro de Colon, Buenos Aires: https://www.youtube.com/watch?v=EUxV9aqrbFU

There is a recording of the second movement of Kenneth MacMillan's Concerto performed by Jenna Roberts and Tyrone Singleton here: https://brb.org.uk/home-frome-home
The Vienna State Opera has posted its streaming schedule for June. It will include segments from an assortment of Nureyev Galas on 25th June: https://www.staatsoperlive.com/ or

https://www.staatsoperlive.com/0/4d853555-c344-480f-a749-411850e58d78/player
MATTHEW BOURNE'S NEW ADVENTURES HAVE PUT UP HIS NUTCRACKER: https://mailchi.mp/new-adventures/october-5016354?e=4c93d522b6
Dutch National Ballet has also added CITIZEN NOWHERE to its streamings: https://operaballet.nl/en/online/ballet/streaming
Alexander Campbell has been instrumental in making a 'lockdown' film which can be accessed via the following Instagram page:
https://www.instagram.com/acampbell_1/channel/?utm_source=ig_embed
The Royal Danish Ballet has put up it Giselle (Hubbe production) which has Ida Praetrorius and Andreas Kaas in the leads:
https://kglteater.dk/xtra/forestillinger/forestilling-giselle/
Dancers from The Royal Ballet have created a new performance entitled Ghost Light to the newly released Rolling Stones song to raise awareness of Acting for Others. This can be accessed via Youtube.
Three short films by Alice Pennefather, featuring Royal Ballet dancers and with choreography by Valentino Zucchetti are here:
https://pennefatherfilms.com/films/?fbclid=IwAR2m_Vs7-TlF5bZrua1XZ40LSxlpnpbVEcC2M44X2YQt24rRtP3Qi5DO9gU
New Adventures has posted Highland Fling:
https://mailchi.mp/new-adventures/october-5015698?e=4c93d522b6
BALLET CYMRU'S LATEST OFFERING is here: https://www.youtube.com/channel/UCusHNEiSVMvyNaYLIWtmWOg/
AND LA BAYADERE FROM PERM FEATURES GUEST STARS NATALIA OSPIPOVA, MARIA ALEXANDROVA AND VLADISLAV LANTRATOV:
Perm https://youtu.be/tBeH46piTvg
DUTCH NATIONAL BALLET'S JUNIOR COMPANY STREAMED GRIMM ON SATURDAY 6TH JUNE AND IT IS NOW AVAILABLE ON DEMAND. THIS IS A PRODUCTION WHICH WAS DUE TO BE TOURED THIS SEASON.
https://bit.ly/fb-ballet-stream
NEW ENGLISH BALLET THEATRE has loaded their production of Jenna Lee's The Four Seasons onto youtube here: https://youtu.be/MbjLFJSllgQ
The Mariinsky Ballet has both Raymonda and The Fountains of Bakhchisarai on youtube:

https://www.youtube.com/watch?v=22Ayg9nhTq4&feature=youtu.be - for Raymonda
https://www.youtube.com/watch?v=thhrJ51hetc&feature=youtu.be - for Bakhchisarai
Novosibirsk Ballet also has Coppelia here: https://www.russianseasons.org/ru/live/balet-koppeliya-spektakl-novosibirskogo-gosudarstvennogo-akademicheskogo-teatra-opery-i-baleta/
THERE IS A VERY USEFUL SUMMARY OF BALLET/DANCE WHICH CAN BE WATCHED ON DEMAND HERE:
https://bachtrack.com/search-dance/medium=2
Vienna's Don Quixote is now online here:
https://www.staatsoperlive.com/
BIRMINGHAM ROYAL BALLET IS IN PARTNERSHIP WITH THE BBC WITHIN ITS CULTURE IN QUARANTINE PROJECT TO RELAY CLASS AND FILM. THE DETAILS ARE AT: https://www.bbc.co.uk/arts AND ALSO ON THE BRB'S WEBSITE: https://www.brb.org.uk
https://www.brb.org.uk/home-from-home
THE IS A SHORT FILM FROM CNN FOCUSING ON ROYAL BALLET DANCERS MELISSA HAMILTON, VADIM MUNTGIROV AND ANNA ROSE O'SULLIVAN IN 'LOCKDOWN':
https://edition.cnn.com/style/article/royal-ballet-opera-house-lockdown/index.html?fbclid=IwAR2Dp_V9GyeQ-EXx8mOt1N3jBqAm0dxh9eh8LXY1wmDmJJ35D3iChnWXsBM
NEW YORK CITY BALLET IS NOW OFFERING PERFORMANCES ETC ONLINE
All programs start at 8 pm Eastern Time (4.00pm BST - but check!)

https://www.youtube.com/nycballet
DANCE EUROPE has put a complimentary copy of its May edition online and is also offering regular news updates
https://danceeurope.net/secure/articles/viewer/10/comp-dig-edition/index.html?fbclid=IwAR2kplb9zuCx4gcgtKOLk4FgPz2w6tDWzVQMQckEOn7vW9RU0NzkzwnKqwQ
THE BOLSHOI BALLET is showing several ballets, including Le Corsaire, The Bright Stream and Spartacus on their youtube channel.
https://www.bolshoi.ru/en/about/press/articles/none/2020-05-04-broadcast/
TROCKS FOOTAGE can be accessed via:
https://www.vimeo.com/231150393
PERM BALLET has made a Jerome Robbins Programme available:
https://www.youtube.com/watch?v=5JoRVALI6_M
SAN FRANCISCO BALLET is uploading a new video each week:
https://www.sfballet.org/sf-ballet-home/
SADLER'S WELLS VIDEO OFFERINGS CAN BE ACCESSED VIA:

https://youtube.com/user/sadlerswells/videos
PEOPLE WHO HEARD DAME DARCEY BUSSELL TALKING ABOUT HER DIVERSE DANCE MIX INITIATIVE IS HER OFFERING ON YOUTUBE: https://www.youtube.com/ddmix
ROUND-UP OF "WATCH TO WATCH" ONLINE HERE:
https://www.fedora-platform.com/news/experience-opera-and-ballet-online/123
IN VIEW OF THE GOVERNMENT'S INSTRUCTIONS ON MANAGING THE CORONAVIRUS [COVID-19] SITUATION, ANY EVENTS PREVIOUSLY MENTIONED ON THIS WEBSITE ARE POSTPONED FOR THE TIME-BEING. UPDATES ABOUT REARRANGED DATES ETC. WILL BE PROVIDED WHEN POSSIBLE.
LBC Members have been notified individually by e-mail or letter. Members are also being kept informed by Newsletter.


The AGM of THE LONDON BALLET CIRCLE was held on Monday, 9th March 2020 at the Royal Ballet School, Floral Street, Covent Garden. The ANNUAL REPORT and ACCOUNTS have been posted on the Archived Newsletters page (via About Us). Members wishing to access the page should be sure to have first created an account and to have logged in.
This year, the AGM evening took a very varied form, with dance and conversation featuring more prominently than the formal business.

By kind permission of the Director, Christopher Powney, members were afforded the treat of watching third year students Maddison Pritchard and Denilsen Almeida rehearse the Chanson pas de deux by Derek Deane. Created for Alessandra Ferri and David Wall, the piece featured many intricate lifts, which made it all the more absorbing to hear the coaching points from teachers Nicola Tranah and Ricardo Cervera and watch the students refine their technique and interpretation.

Following this, Kevin O'Hare CBE, Director of The Royal Ballet, was "In Conversation" with Jane Pritchard MBE, Curator of Dance at the V&A Museum. The focus was firstly on how Kevin had thought about, discussed, and acquired the experiences which shaped his desire to lead a company and later, in some detail, on how he perceived and discharged the various and ever-developing elements of his role, both within The Royal Ballet and in collaboration with others. It was a privilege to hear Kevin's perspectives on these aspects of managing The Royal Ballet. [A photo by LBC is underneath this brief summary and a full report on the conversation between Kevin and Jane will be posted on the website as soon as possible.]
THE FULL REPORT OF THE CONVERSATION IS NOW AVAILABLE IN THE REPORTS SECTION
Three lucky members then won a draw for an annual subscription each (worth £39.50) to The Dancing Times, kindly donated by the Editor, Jonathan Gray.

Finally, members were thrilled to be joined for drinks and titbits by many special guests from the ballet world who had talked to the LBC during the previous financial year or facilitated LBC visits to classes and rehearsals.

The feedback about the occasion has been extremely positive and grateful thanks are due to everyone - our various guests; the RBS teachers, students and other staff; and, not least, our president Dame Monica Mason DBE - for making it possible and giving members such a memorable evening.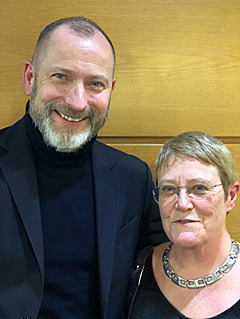 < THE LONDON BALLET CIRCLE IS THRILLED AND HONOURED TO ANNOUNCE THAT DAME DARCEY BUSSELL DBE HAS KINDLY AGREED TO BECOME ONE OF OUR VICE PRESIDENTS >
The LBC is now on Instagram: https://www.instagram.com/londonballetcircle/
Please take a look!