The London Ballet Circle offers informal talks by figures from the world of dance, visits to top ballet schools, and range of other activities.
All the funds raised are used to provide help for young students in their training, other forms of sponsorship, or support for specific projects.
LBC LATEST NEWS
An Evening for Margot Fonteyn
On Monday 20 May, over a hundred members of the London Ballet Circle and their guests gathered together at the Swiss Church in Endell Street to celebrate the birth of an icon of the ballet world, Dame Margot Fonteyn. They were treated to a wonderful evening of reminiscences from those who danced with her, films of her dancing, performances of works closely associated with her and even a toast to her memory!

The evening started with an introduction from renowned dance critic Alastair Macaulay who explained why Margot Fonteyn was such a unique talent: the curve of the arm as it went into the wrist, the softness of the touch of the foot on the floor, the way that you always seemed to know where she was looking, her sense of tempo and exquisite gesture, drew in her audiences such that they felt an emotional unique bond with her as she danced.
There then followed a panel session with distinguished former members of the Royal Ballet who shared their memories of working with Margot Fonteyn: Alfreda Thorogood Wall, whom Fonteyn had encouraged to dance from the age of 4 with the result that she became a Principal of the Royal Ballet and whose husband, David Wall, Margot Fonteyn described as "her favourite partner"; Dame Merle Park, who remarked on Margot Fonteyn's wonderful cheerfulness and infectious laugh; Donald MacLeary, who recalled the night in New York when he had been dancing the Prince to her Cinderella and the audience had applauded her as she danced so much that he could not hear the music; Sir Peter Wright, who told about the time when Margot Fonteyn was opening in The Sleeping Beauty in New York and Sir Frederick Ashton had deliberately made her anxious as he knew that this would improve her performance – it duly worked; Dame Monica Mason, who illustrated Fonteyn's impact as a dancer by saying that many members of the corps de ballet cried when she collapsed in Giselle; and Wayne Eagling, who talked about her interest in everyone around her – no matter who they were – and the depth of her knowledge of both science and art.

After a short interval, during which Sir Peter led the assembled company in a toast to Margot Fonteyn and everyone enjoyed a slice of celebratory cake, there then followed two dances closely connected to Margot Fonteyn. The first was the Birdcage Dance that she, herself, had choreographed as part of the Royal Academy of Dancer Grade 1 "Fonteyn Syllabus" to music by Johann Strauss II. On the 20 May, the work was exquisitely performed by young RAD student Cindy Van Rooyen, aged 8, and brought back memories of the work as it had originally been developed for the Fonteyn Syllabus. The second was Fonteyn's solo from The Wise Virgins choreographed by Sir Frederick Ashton to music by Bach and arranged by Constant Lambert. In this case, the dancer was Romany Pajdak, a first artist of the Royal Ballet. It was no less exquisite. Many of Romany's gestures reflected the comments made by Alastair Macaulay about the unique Margot Fonteyn style.

In both the first and second halves of the evening, the audience had the benefit of seeing Margot Fonteyn actually performing. Lynne Wake, a documentary film maker and former dancer, presented extracts from a number of films of Fonteyn dancing taken from various stages in her career, including one that had only recently been discovered. Together with the photographs that were also on show, it gave those attending a true insight into this most remarkable of performers.

Finally, and all too quickly, the evening came to an end. Kevin O'Hare gave the closing tribute. As with many people in the room, Kevin never saw Margot Fonteyn perform but he continues to enjoy her legacy with the Royal Ballet. Her photographs still line the corridor and the Royal Ballet still performs many of the ballets that she made famous during her remarkable career.

It was a fitting end to the celebration of the life of the ballet dancer who made such an impression on everyone around her.
The very varied programme was as follows:

[PICTORIAL MEMORIES collated by Jane Pritchard]
[FONTEYN MEMORABILIA collected by David Long]
INTRODUCTORY TALK: Alastair Macaulay
FONTEYN ON FILM 1 compiled and introduced by Lynne Wake
PANEL DISCUSSION chaired by Alastair Macaulay and featuring: Donald MacLeary Dame Monica Mason Dame Merle Park Alfreda Thorogood Wall Sir Peter Wright with an opportunity for questions from the audience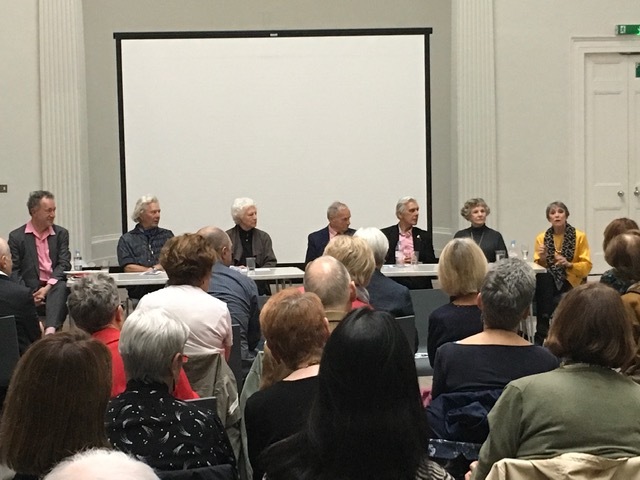 INTERLUDE: CAKE CUTTING by the LBC Patron, Sir Peter Wright, together with a TOAST to honour the memory of Dame Margot
CHOREOGRAPHY BY FONTEYN: The Birdcage Dance (RAD Grade 1 'Fonteyn Syllabus' 1968-1991) with music adapted from Bitte Schön (Polka Française) opus 372 by Johann Strauss II taught by Valerie Hitchen, introduced by Gerard Charles, danced by Cindy Van Rooyen, and accompanied by Reet Smallshaw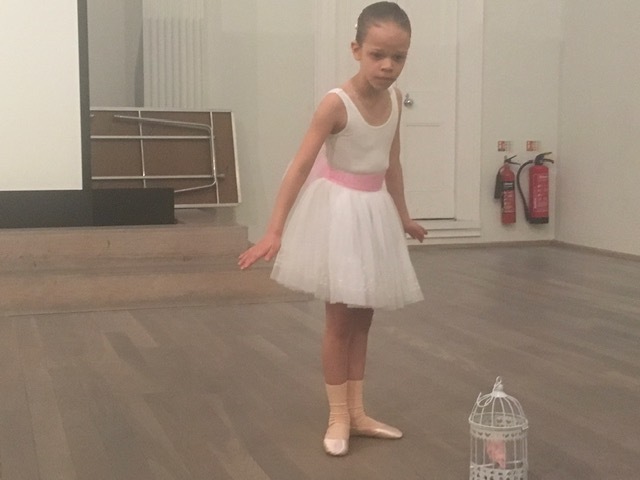 FONTEYN'S SOLO from The Wise Virgins choreographed by Sir Frederick Ashton to music by Johann Sebastian Bach arranged by Constant Lambert danced by Romany Pajdak, accompanied by Michael Pansters
FONTEYN ON FILM 2 compiled and introduced by Lynne Wake
Closing TRIBUTE: Kevin O'Hare, Director of The Royal Ballet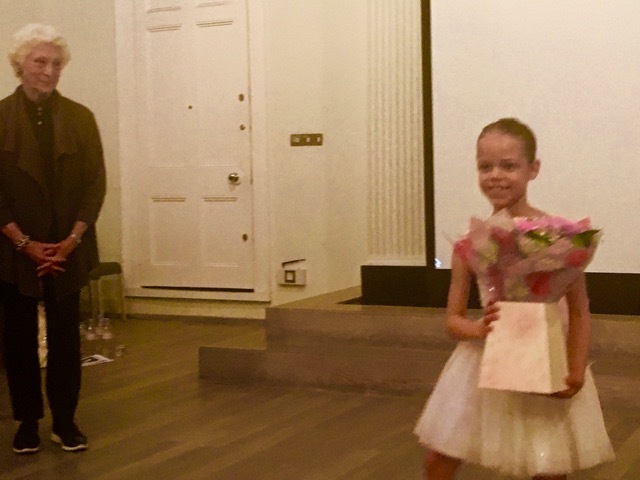 David Hallberg "In Conversation",13th May 2019
"Really insightful" "Such a varied and interesting career" "I simply must read the book" "I will watch David dance with new eyes now"
The LBC members and guests were delighted to welcome international principal dancer David Hallberg who is shortly to guest with the Royal Ballet as Romeo and as Beliaev in Month in the Country, both opposite Natalia Osipova.

David revealed that he had initially been captivated by Fred Astaire, but progressed from tap dancing to ballet studies in Arizona, New York and Paris. Inspired by the male dancers of American Ballet Theatre, he joined that company in 2002 and continues to dance the full repertoire and collaborate on new works with choreographer Alexei Ratmansky.

Ranging more widely over his career, David spoke of the challenges of working also with the Bolshoi, of developing his partnering skills, of keeping familiar roles fresh and, from a very different perspective, of getting through a long period of injury. He spoke with appreciation of the critical input he received from his coaches and of the ways in which his partnership with Osipova was very special for both of them.

David is already mentoring young dancers and hopes that he will be able to channel his energies and experience in other beneficial ways within the dance world.

After questions from the audience focused on the ballet companies he worked with, the Kings of the Dance tours and upcoming appearances, David kindly signed copies of his book and posed for photos.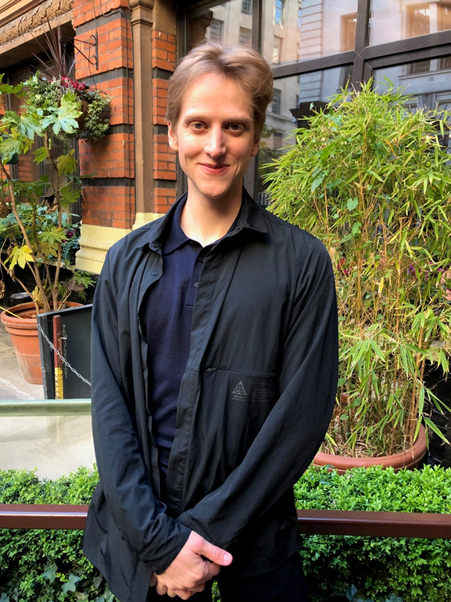 Thank you so much, David, for taking the time to visit us. The LBC looks forward to your performances with The Royal Ballet and wishes you well for the future.

[A full report will be available on the website in due course.]
London Ballet Circle visit to the Central School of Ballet: 13th May 2019
The London Ballet Circle was very warmly welcomed on its annual visit to Central this afternoon. This was probably the last time at Herbal Hill as the school will be moving to its new premises during the 2019/20 school year.
Ballet Central is the touring company formed of 3rd year students which performs 25-30 times all over the country. We were treated to excerpts from some of the 2019 programme - works by Ashton, MacMillan and Marney. The students tackled these challenging and very different works with grace, confidence and great skill. Artistic Director Christopher Marney introduced each piece and asked us to imagine the sets and costumes - easy to do when the dancers interpret the work so well!
The students answered questions from the audience and gave a real sense of the effort and commitment required in touring. It's obvious that the graduating dancers are well prepared for their futures as professionals.
The visit finished with coffee and an opportunity to speak to some of the talented young dancers.
London Ballet Circle visit to The Royal Ballet Upper School:
10th May 2019
The members and guests of The London Ballet Circle joined with The Ballet Association for a most enjoyable day at the Royal Ballet Upper School.
The day started with Paul Lewis teaching a 3rd Year Men's Class. Many of us have seen these young dancers since they were in their first year. Then they were boys, now they are men and ready to embark on their professional careers.

Next, Nicola Tranah coached five of the 3rd Year Ladies in the solo from Paquita.
This was followed by Daria Klimentova and the 2nd Year Ladies preparing for their assessments.
The day finished with a 1st Year mixed Contemporary Class taught by Antonia Grove. This was the first time we've been treated to a Contemporary Class and it was fun watching these young ballet dancers bending themselves to a different style. It certainly looked like they were having a good time and adapting well.

Christopher Powney, Artistic Director of the school, took the time to speak to the audience about the school and some of the activities that have taken place this academic year.
We are privileged to be invited into the Royal Ballet School where the welcome is warm and the standards incredibly high. We eagerly await the next opportunity to visit!